Regular price
$2,349.00 USD
Regular price
Sale price
$2,349.00 USD
Unit price
per
Sale
Sold out
Ecomobl M24 PRO 2-IN-1 4WD 12S5P Real All Terrain Electric Skateboard 
ECOMOBL M24PRO IS A DIFFERENT MACHINE.
Your ride will be smooth with our unique double-spring shock absorption experiencing far greater stability whether at high speeds and/or through rough terrain.
The AWD M24PRO can switch between 4 wheel drive and 2 wheel drive from the remote. Use the 2 wheel drive for pavement (saving some battery) and the 4 wheel drive for the rough terrain.
2IN1 WHEELS, 14000 WATTS, ULTRA HIGH POWER ULTRA HIGH TORQUE MOTORS
You can exchange these 2 types of wheels(250*55mm and 250*90mm)at will.It can climb up to 47% to 55% grade hills. Built like a monster truck, everything else is made from solid aluminium.
There are NO BELTS on this machine, it is powered by a new generation of motors. Inside each wheel there is a 82 mm Brushless Planetary Gear Motor. With the use of gear drives this "board" can go extremely fast but can also crawl on rocks exactly like an RC crawler.
DRIVE: ALL-WHEEL DRIVE 4 MOTORS

INCLINE: 47%-55% GRADIENT

★★★★★
Delivered within a week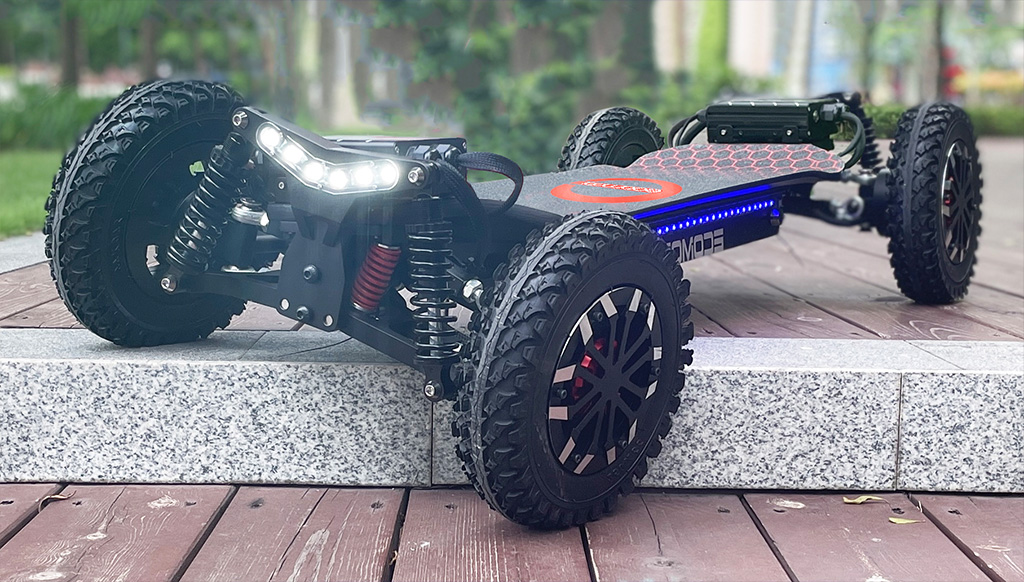 WHY M24 PRO
The M24 Pro is a machine built with one purpose, to go offroad. The M24 was already a beasty machine, for the M24 Pro we took what was already working and made it even better. We gave the pro bigger tires for more clearance, a wider and longer deck for better stability, and we upgraded the steering so that the rider can still execute tight turns despite the size. Comparing the M24 Pro to other mass produced AT boards on the market is like comparing a monster truck to your mom's SUV.


DIFFERENCE
M24 PRO – THE OFFROAD MONSTER
OTHER AT BOARD
TRUCKS
(1) Independent system development inhouse
(2) Unlike standard trucks where the wheels are bound to each other through the hanger. All the wheels are able to travel independently from each other.
(3) This system provides significant shock absorption
(4) allowing for a buttery smooth ride on all but the roughest
terrain.
(5) The suspension will also help ensure that all 4 wheels are always touching the ground to provide maximum traction to the rider at all time.
(1) Double Kingpin Trucks
(2) This style of trucks provides minimal amount of shock absorption.
(3) They also don't offer any advantages in terms of maintaining traction.
(4) Great for carving on asphalt, limited use on off road settings.
WIDTH
(1) 19 inch
(2) The board sits at 19 inch wide which is wider than many mountainboards on the market.
(3) The wide stance of the board provides additional stability when riding off road.
(1) 12 inch
(2) The smaller truck size will offer better maneuverability but doesn't offer enough stability for true offroad use.
TIRES
(1) 10 inch knobbies
(2) These are larger than most tires on the mountainboard
(3) The rider will be able to easily roll over most obstacles.
(1) 6 or 7 inch street tires
(2) These are great for riding the streets but would struggle when faced with true off road terrain.
DRIVE TRAIN
(1) 6382 motors with planetary gear drives x 4
(2) Bigger motors = more torque.
(3) 4 wheel drives = more traction and torque
(4) Gear drives allow for better power transfer compared to belts.
(1) 50xx motors with belt drives x 2
(2) Smaller motors allow for a smaller battery size at the expense of power.
(3) Belts can snap when debris gets stuck in the drive.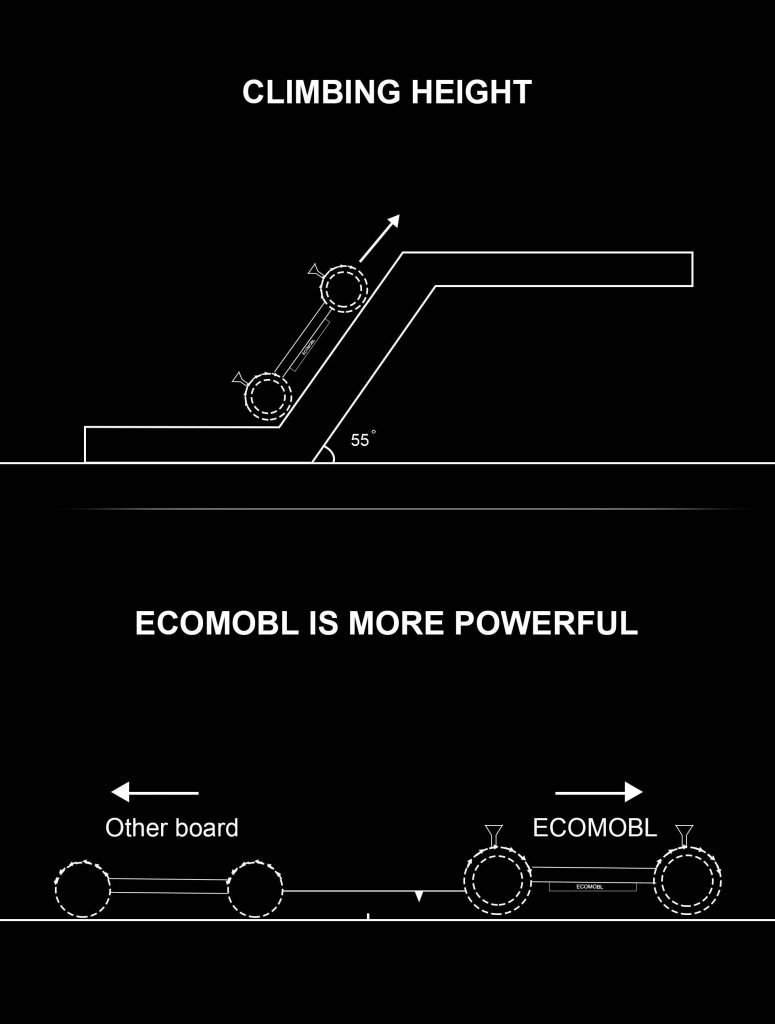 HIGHLIGHTS OF THE M24 PRO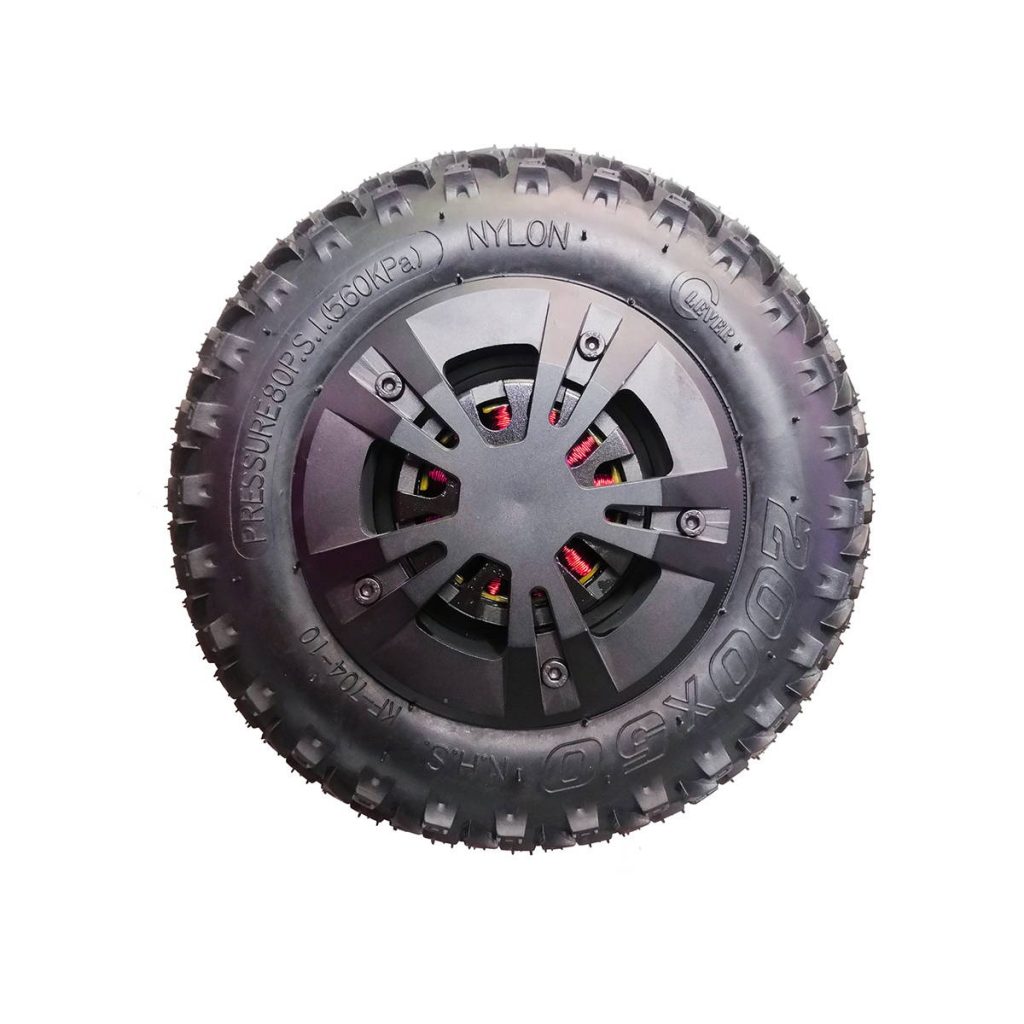 ECOMOBL'S INNOVATIVE DESIGN 10'' WHEELS
Our revolutionary motor positioning is a game changer. Our planetary gear motors are not your traditional "hub" motors. We removed the motors from behind or under the board where they are vulnerable and utilized the dead space in the wheel hub. This protects both the motor and creates a cleaner, more streamlined look.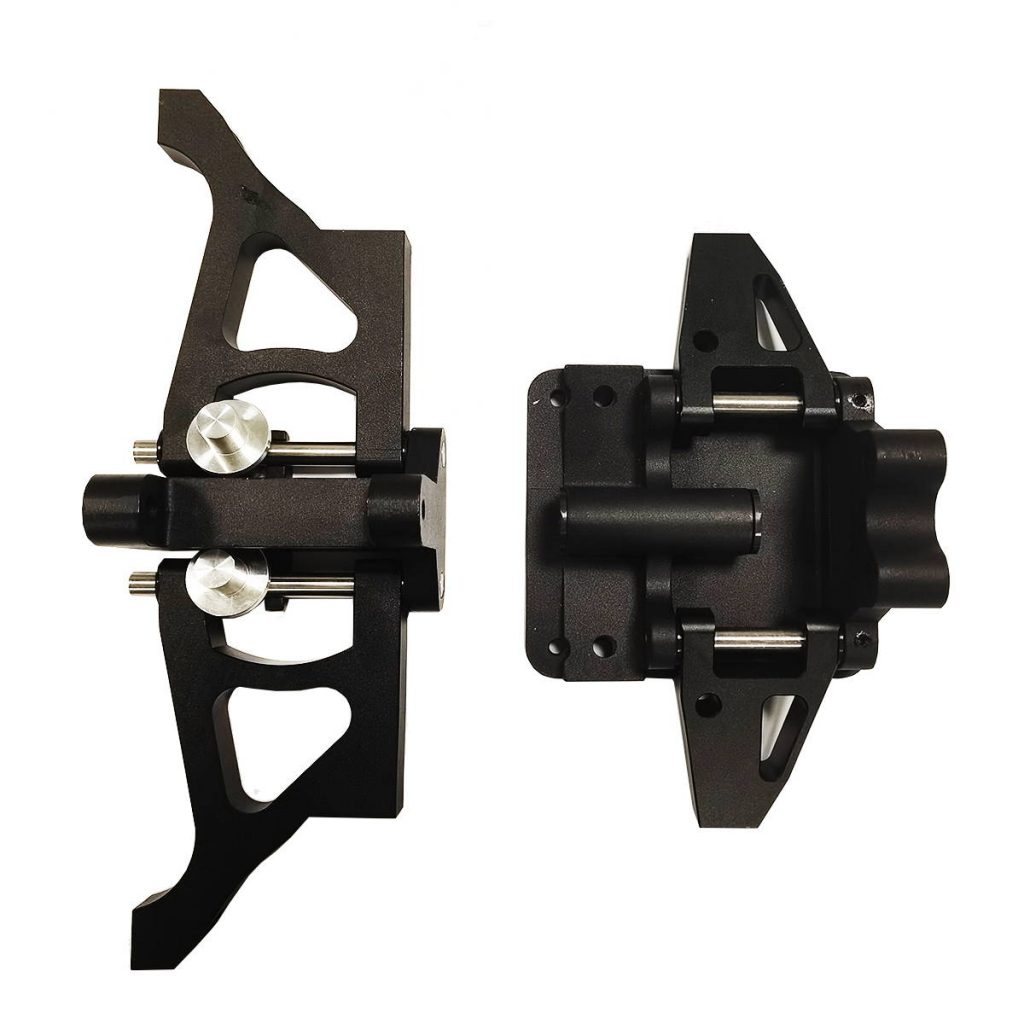 UNIQUE SUSPENSION SYSTEM
It has always been Ecomobl's goal to bring you a special riding experience. We have invested a lot of money and put a lot of thought into developing our unique board suspension. After 5 years of research, we finally suceeded in making a real off-road skateboard. Our new suspension system reduces vibration by up to 80%, which enables you to handle all terrains better than other skateboards.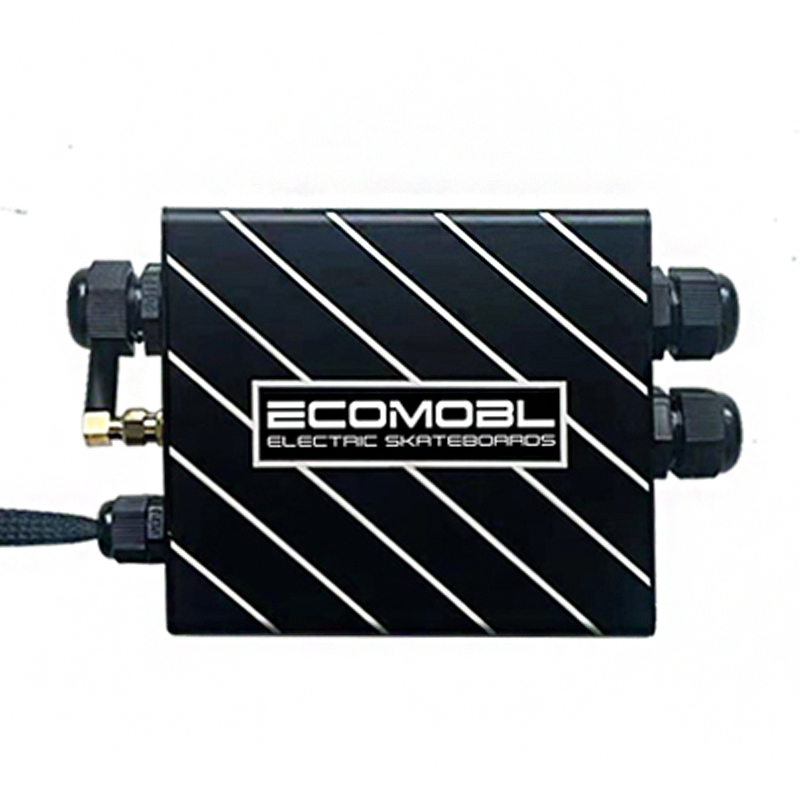 ECOMOBL THE LATEST ESC
ECOMOBL develops the newest waterproof ESC, this one is based on VESC and inherits all its advantages which includes comprehensive functionality and wonderful power transmission as well as accurate regulation of movement and braking. It gives you steady acceleration, braking control. These 2 ESCs are configured at 120 Amps in order to provide amazing acceleration and hill climbing ability.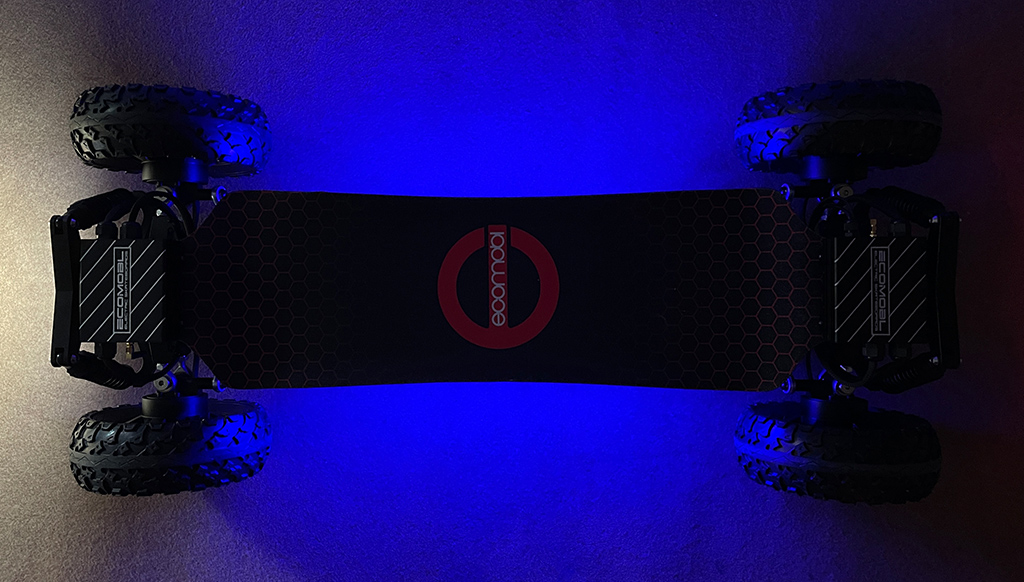 ★ SOLID ALUMINUM CNC SUSPENSION.
1.All suspension components including shock towers, control rods, hubs, gears and linkages are milled from aerospace grade aluminum. This board is built to take a beating.
2. We protect our batteries through a precision bent, thick aluminum box. It's beefy so you don't have to worry.
★ GET RANGE & POWER WITH 10C BATTERY CONFIGURATIONS.
A favorite in the DIY scene, our 10C cells have extremely high continuous amp discharge rates. While some cells have only 1 of high capacity or high amperage our battery has both. This high amperage ensures powerful torque which translates to better hill climbing, better movement of larger riders, faster launch accelerations and more power for the M24PRO's dual 60 amp ESCs to tap into. All with less battery sag below 50% charge than other batteries.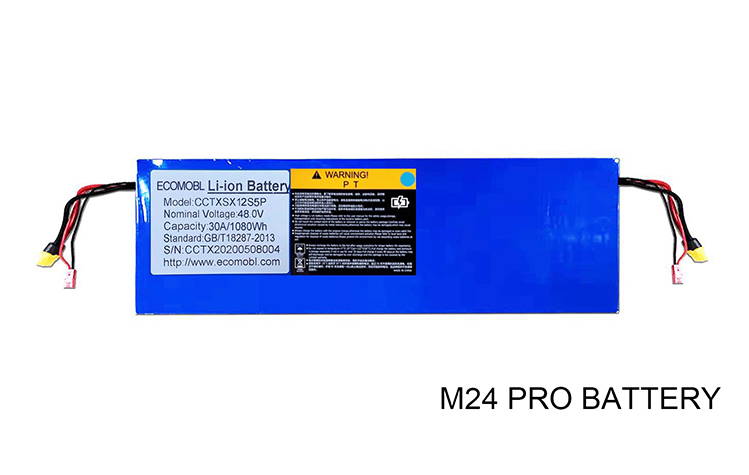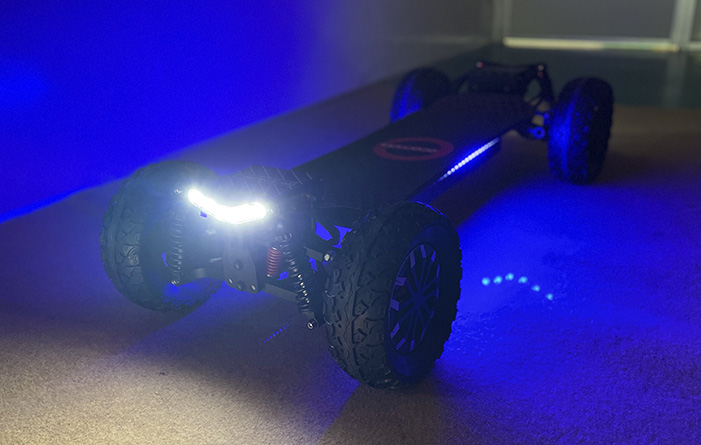 ★ THE HEADLIGHT IS EXTREMELY BRIGHT.
1. It is perfectly suitable for you to ride at night. The headlight has a lighting range of 15-20 meters.
2. The front, sides and rear of the board are complete with lights which can be controlled from the screen remote.
3. The screen remote control has the latest features, fixed road speed, cruise control, distance traveled and more.
Range: 40-50 km | 25-30 miles (Rider: 65kg)
Max speed: 45-50 km/h | 27-30 mph
Incline: 47%-55% Gradient
Dimension: 46in x 19in x 12in
Weight: 60-65 lbs
Rider weight limit: 330 lbs
Charge time: 4-6 hrs (with 5amp charger)
Light: Head light, tail light, body lights
Remote: Remote with screen
Wheel size: 10" wheels
Deck: 9 layer maple + 2 layer fiber glas
Waterproof rating: IP56
Unique Suspension System
Drive: All-Wheel Drive
Battery: 12S5P 960Wh
Motor: 6382 Motor * 4
Drivetrain: Planetary Gear Drive
ESC: 60A x 2
Brakes: Regenerative (Restore 22% of battery)
M24 PRO electric skateboard * 1
250mm*90mm wheels * 4
Screen remote * 1
Standard charger * 1
Ecomobl Bag * 1
Tools * 1
Instruction manual * 1
Extra green springs * 4

View full details