Regular price
$1,299.00 USD
Regular price
Sale price
$1,299.00 USD
Unit price
per
Sale
Sold out
Ecomobl ET2 2WD 12S4P All Terrain Electric Longboard 
★ THE ET2 IS UNLIKE ANY OF THE MASS-PRODUCED BOARDS IN THE MARKET.

The larger double drop down Deck, gives it a low Center of gravity for better control with even wider trucks 18″/46cm, compared to the ET, it gives greater stability, clearance and off-road performance.
Still light weight, only 37lb/17kg.
Providing up to 20-25mph/35-40 km in range and able to climb 33-40% grade hill,this skateboard is extremely powerful and climbs hills like boards twice it's price.
Other Esk8 boards at this price range can only tackle a 28% grade.
2600W X2 ULTRA HIGH POWER ULTRA HIGH TORQUE MOTORS
It is Powered by our 12S4P battery and driven by two powerful 74mm brushless planetary gear motors, that effortlessly reach 30-35mph/48 -56 km, with great acceleration!!
It's unique airless wheels 200 x 55 mm is ideal for city, uneven asphalt or off-road conditions. These tires have an internal honeycomb structure so that tire punctures are no longer a worry. The honeycomb structure also ensures a tight grip, and greatly reduces vibrations.
Top Speed: 30-35mph/48 -56 km
Range: 0-25mph/35-40 km
8'' TIRES CONQUER ALL TERRAIN.

INCLINE: 30%-40% GRADIENT

★★★★★
DELIVERED WITHIN A WEEK
★ Most of the "AT boards" are based off the tried-and-true formula. You start with a pair of wide and carvey double kingpin trucks, slap on a set of 7-inch road tires, and add a set of belt drives for torque. While this setup allows for a fun carvey ride and the ability to swap into street wheels, this setup is ultimately a setup filled with compromise as it is trying to be a jack of all trade. When we were designing the ET2 we decided that this was going to be a board that can handle seriously offroading while still be nimble enough to run on the city roads.

★ Here is how the ET2 sets itself apart:
DIFFERENCE
ECOMOBL ET2
THE OTHER BRANDS
TRUCKS TYPE
(1) Reverse King PiReverse King Pin Trucks
(2) This style of trucks is popular for downhill skaters and provides additional stability at speed and over rough terrains.
(1) Double Kingpin Trucks
(2) This style of trucks provides great agility but are unstable at speed and adds ride height to the board which further decreases stability.
HANGER WIDTH
(1) This style of truck18 inch
(2)  In terms of off-road stability, the wider the more stable. ET2's hanger's are as wide as truck mountainboards trucks from Trampa and MBS.s is popular for downhill skaters and provides additional stability at speed and over rough terrain.
(1) 12 inch
(2) The smaller truck size will offer better maneuverability but doesn't offer enough stability for true offroad use.
TIRES
(1) 8 inch knobbies
(2) These are the standard for most mountainboards. Perfect for conquering off road trails.
(1) 6 or 7 inch street tires
(2) These are great for riding the streets but would struggle when faced with true offroad terrain.
DRIVE TRAIN
(1) 6374 motors with planetary gear drives
(2) Bigger motors = more torque.
(3) Gear drives allows for better power transfer compare to belts.
(1) 50xx motors with belt drives
(2) Smaller motors allow for a smaller battery size at the expense of power.
(3) Belts can snap when debris get stuck in the drive.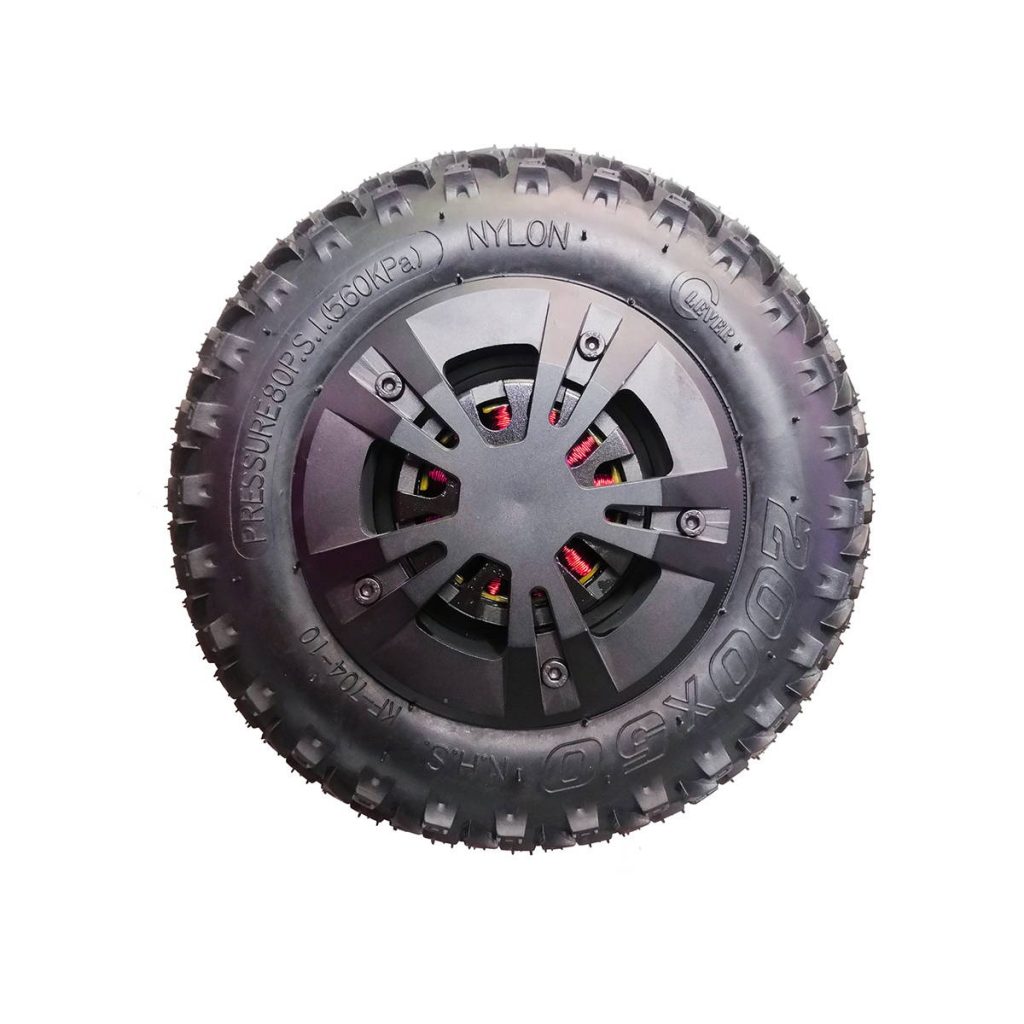 ECOMOBL'S INNOVATIVE DESIGN
Our revolutionary motor positioning is a game changer. Our planetary gear motors are not your traditional "hub" motors. We removed the motors from behind or under the board where they are vulnerable and utilized the dead space in the wheel hub. This protects both the motor and creates a cleaner, more streamlined look.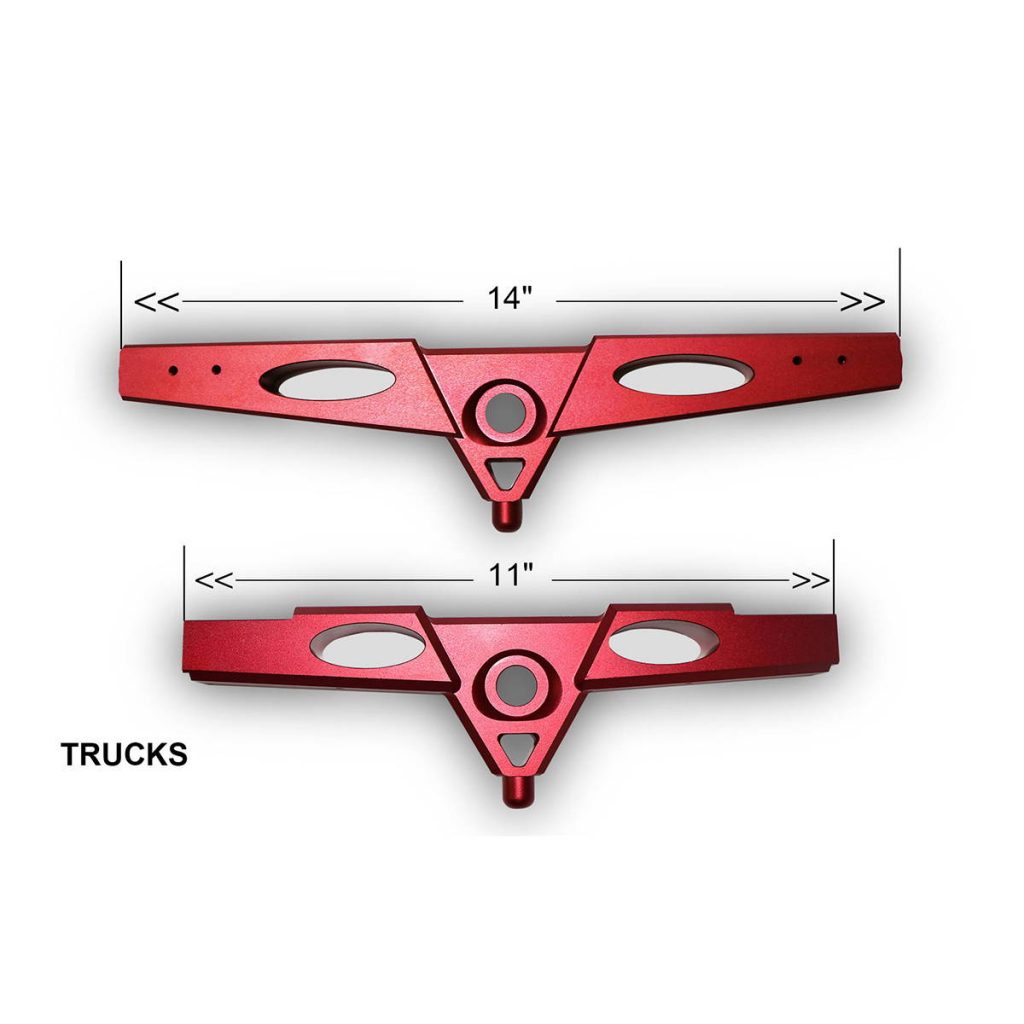 EXPERIENCE THE ET2 DIFFERENCE
We didn't set out to build a board that can do an OK job with everything. Unlike the "AT Boards" our competition offers, the ET2 is designed to conquer the hills and off roads trails while still being capable in the city.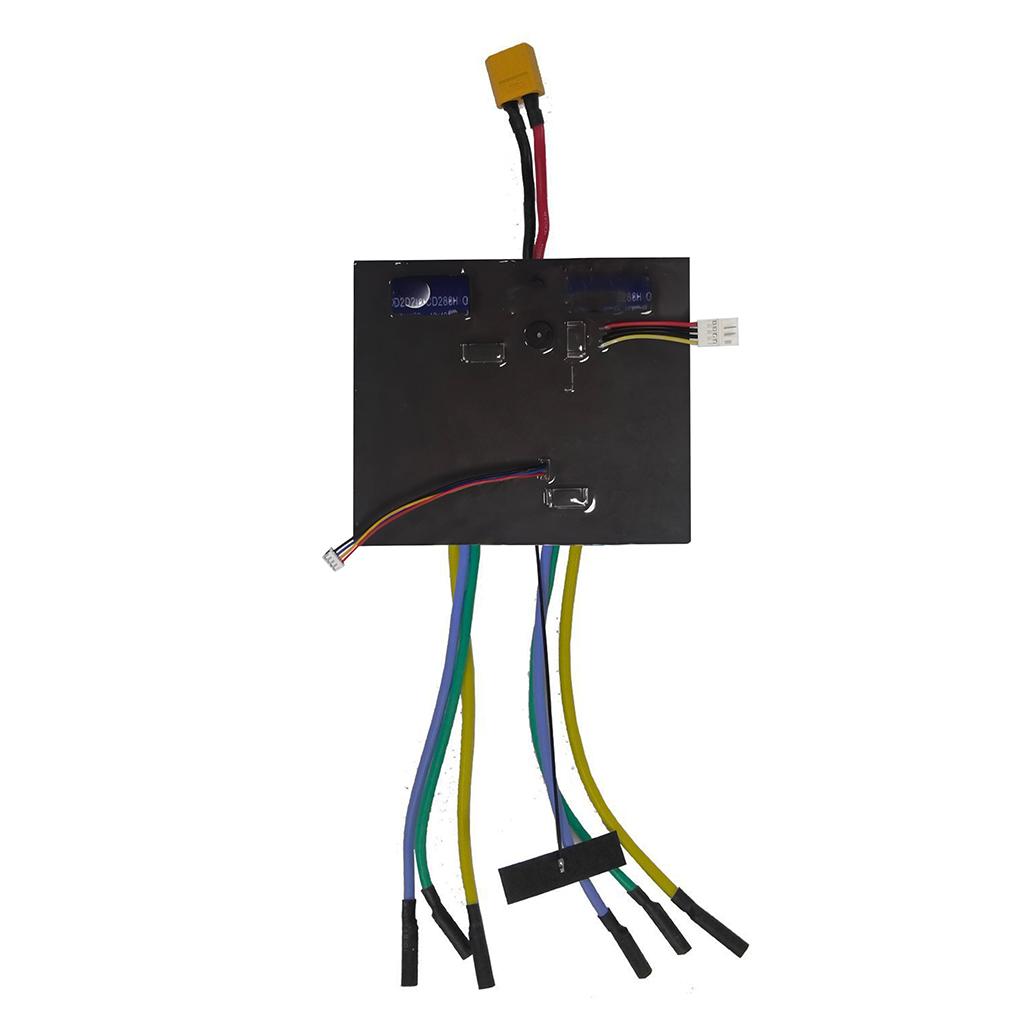 ECOMOBL WATERPROOF ESC

Ecomobl the newest waterproof ESC provides smooth acceleration and braking control, as well as eliminating input lag. This ESC is also configured to 50 Amps to give phenomenal acceleration and hill climbing capabilities.
★ SOLID ALUMINUM CNC ACCESSORIES.
1.All parts components including shock towers, control rods, hubs, gears and linkages are milled from aerospace grade aluminum. This board is built to take a beating.
2. We protect our batteries through a precision bent, thick aluminum box. It's beefy so you don't have to worry.
★ GET RANGE & POWER WITH 10C BATTERY CONFIGURATIONS.
A favorite in the DIY scene, our 10C cells have extremely high continuous amp discharge rates. While some cells have only 1 of high capacity or high amperage our battery has both. This high amperage ensures powerful torque which translates to better hill climbing, better movement of larger riders, faster launch accelerations and more power for the ET2's 50 amp ESCs to tap into. All with less battery sag below 50% charge than other batteries.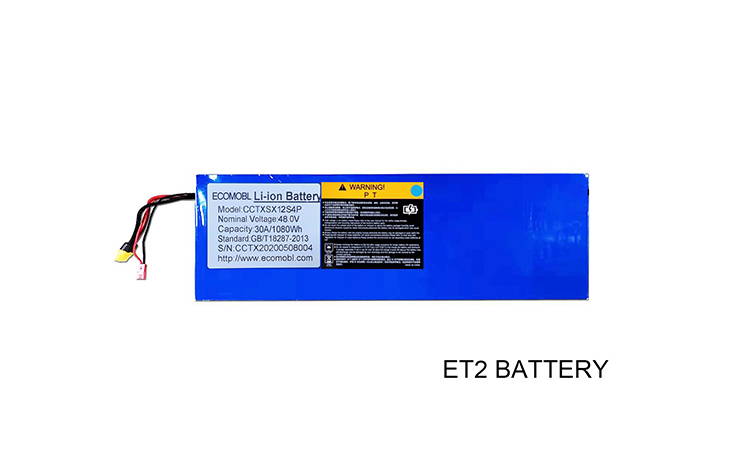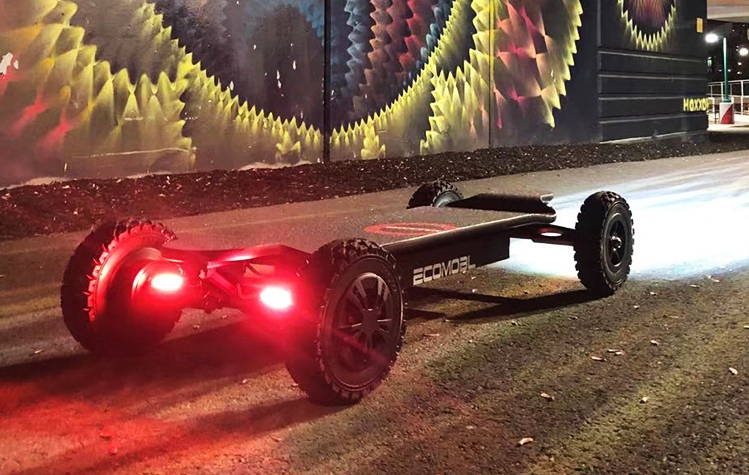 ★ THE HEADLIGHT IS EXTREMELY BRIGHT.
1. It is perfectly suitable for you to ride at night. The headlight has a lighting range of 10-15 meters.
2. The front and rear of the board are complete with lights which can be controlled from the screen remote.
3. The screen remote control has the latest features, fixed road speed, cruise control, distance traveled and more.
Range: 40-50 km | 25-30 miles(Rider: 65kg)
Max speed: 48-55 km/h | 30-35 mph
Incline: 30%-40% Gradient
Dimension: 44in x 18in x 8in
Weight: 37 lbs
Rider weight limit: 330 lbs
Charge time: 5 hrs (with 3amp charger)
Light: Head light, tail light
Remote: Remote with screen
Wheel size: 8" wheels
Deck: 9 layer Canadian maple
Waterproof rating: IP56
Battery: 12S4P 768 Wh
6374 Motor: 170kv 2600 Watts each, total is 5200 Watts
Drivetrain: Planetary Gear Drive
ESC: 50A
Brakes: Regenerative (Restore 22% of battery)
ET2 off road electric skateboard * 1
Screen remote * 1
Standard charger * 1
Ecomobl Bag * 1
Tools * 1
Instruction manual * 1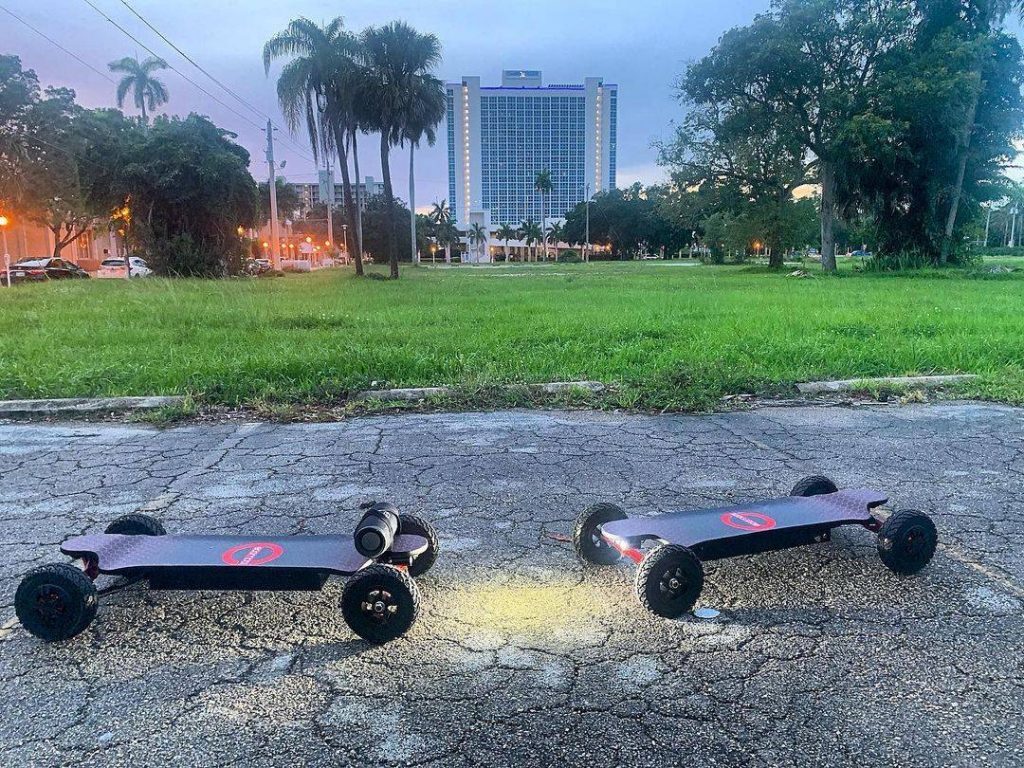 View full details